The Dalmatians of my Childhood...
I grew up in a "Dalmatian family". When I was seven years old, my parents got me and my brother our very own Dalmatians, Domino and Dotty. With the guidance of my parents I learned all about this unique breed, their needs, and their personalities. When I moved away to college, Domino was too elderly to come with me, so my parents and I decided it would be best for her to stay with her life-long companion Dotty and live out her old age in her childhood home with them.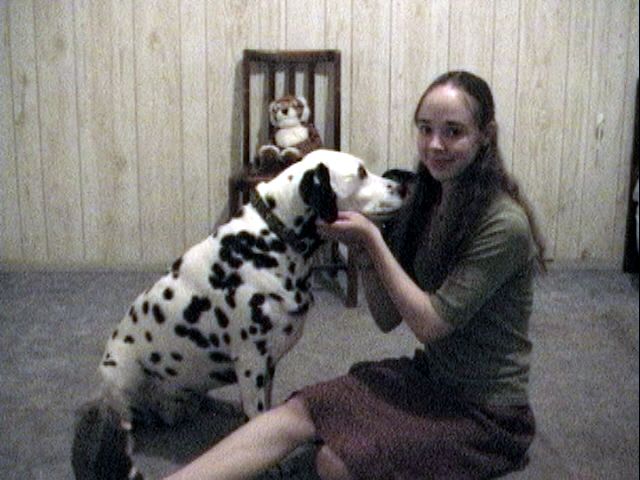 A picture of Domino and me (when I was in high school).
In Loving memory of Domino: 1992 - 2006.
My current Dal, Lola...
In my sophomore year of college, after a year of living without a Dalmatian, I decided I was in a good position to adopt. I spent the whole summer on petfinder.org, looking for my perfect match. I adopted Lola from an Animal Control shelter she had been kept at since she turned up in a state park with no coller and no micro-chip. Nobody ever came to claim her, poor baby!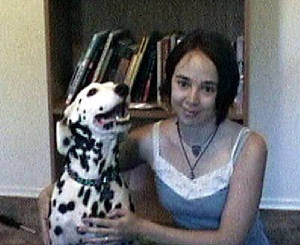 Today, Lola is about four years old. Shortly after adopting her I found that she is deaf in one ear and hard-of-hearing in the other, a problem I quickly fixed with special hand-signal training. Lola goes everywhere with me, and is now equipped with coller identification AND a micro-chip! I'll make sure she never ends up in Animal Control again!
Duke my "Permanent Foster"...
I have had Duke for less than a year. He is a senior Dalmatian, and I originally took him in as a foster, but he is just too "special needs" to re-home. Duke is profoundly deaf, blind in one eye, and extremely arthritic. He was found half-dead crawling on the side of the road, and the vet said it's likely that he was "dumped" there or even thrown from a moving car. He had major injuries to his hips and had bladder stones so bad he almost lost his life. After spending two years in a vet kennel, I stepped up to the plate and took him in. He likes being in a family home much better! He's a pure lover-boy, and just wants to cuddle with everyone!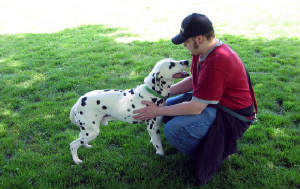 My fiance Peter with Duke at the dog-park.