Dalmatians Today...
Although Dalmatians are sometimes still kept in firehouses as mascots, the invention of the automobile and modern fire engines has eliminated the job the dogs used to do. Occasionally you still see a Dalmatian or two performing in a circus, but the increasing awareness of animal rights has also meant a decline in this phenomenon. Dalmatians these days are perfectly happy "just" being companions.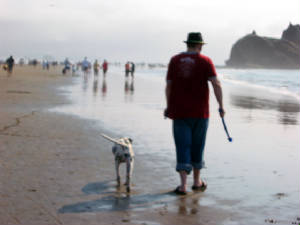 Dalmatians have still retained their ancestors' traits, however. They are still naturally comfortable with horses and still love to run. They also often have an exclusive and aristocratic nature, and I'm sure my Dalmatians would feel perfectly at home in some Edwardian mansion. They are also born entertainers, and I'm almost certain that my Lola had ancestors in the circus business because of her goofy comedic personality!
Dalmatian Health...
Dalmatians are naturally a very healthy breed. Common health problems in other breeds, such as hip dysplasia and seizures disorders, are virtually unknown in Dalmatians. They are also a relatively long-lived breed, and generally don't begin experiencing the normal problems of old age until they are around 12 years old. The general life expectancy is around 15 years, and many Dalmatians make it even longer. With regular visits to the vet and a healthy lifestyle, you can expect your Dal friend to be around a good long time!
Deafness: This is perhaps the biggest health problem for Dalmatians. They experience a much higher occurence of deafness than other breeds (about 10%), and it is directly linked to their unique white coloring and a genetic mutation of the inner-ear. Responsible Dalmatian breeders have their pups screened for deafness using the BAER test, and would never sell a deaf pup without informing the adopter, but if you suspect you have a deaf Dalmatian it is relatively easy to have him or her tested. Unfortunately, many deaf Dalmatian puppies are euthanized simply because they cannot hear. Deaf dogs can make wonderful pets for families that have the patience and knowledge of how to deal with it, so I would STRONGLY recommend exploring other options before euthanizing an otherwise healthy Dalmatian! Both of my Dalmatians are deaf, and with some special hand-signal training they are wonderfully behaved and fully functional members of my family!
Bladder Stones: Dalmatians are the only dogs that can suffer from bladder stones, and like deafness it is linked to their lack of pigmentation. Dalmatians produce naturally acidic urine, which can lead to the stones. If you notice changes in your Dal's urination habits, including frequent accidents or painful urination, you should have him or her screened for bladder stones immediately! Although your Dal may pass the stone(s) without problem, if left unchecked it can lead to major health problems. Before I adopted him, my Dal Duke was found abandoned with the worst case of urine blockage the vet had ever seen, and it almost proved fatal for the poor guy!
Vestibular Disease: The term "vestibular disease" is generally used to describe any abnormality in the vestibule (the mechanism in the inner-ear that controls our ability to interpret our position in space) that cannot be explained by stroke, brain tumor, or any other major neurological event. The causes of vestibular disease range from infection, to blockage, to idiopathic, and the symptoms are reminiscent of a stroke: leaning to one side, loss of balance, head-tilt, and general disorientation. Dalmatians tend to have sensitive inner-ears and are therefore possibly more prone to vestibular disease, although the symptoms generally pass after about a week.