Tip 1: Patience!
Dalmatians are intelligent and they want to please their owners. However, just as with any dog, you need to understand that their attention span is a lot different from ours! If your Dalmatian doesn't pick up on what you want him to do right away, it may be because you are having a communication problem. Be persistent and have patience, and you and your Dal will get along fine!
Tip 2: Exercise, exercise, exercise!
Dalmatians are born runners, and they have remarkable stamina! They also love to explore and to be off leash. Dalmatians are not a good pet for people who sit at home a lot, but if you are looking for a good exercise partner, you won't be disappointed!
People always ask me if it's true that Dalmatians are "hyper", and my answer generally surprises them. No! I don't consider Dals to be hyper. As long as you give them daily outside exercise, they are perfectly calm while indoors. When they are provided with the proper outlet for their energy, they are more than happy to curl up with you when you need some down time. So, if your Dalmatian is acting inappropriately "hyper", it is probably because they aren't getting enough exercise.

Tip 3: Give them your attention
While Dalmatians do tend to have an "independent streak", this doesn't mean that they like to be alone. Dalmatians need companionship and don't do well when they are left alone for long periods of time. They are happiest when they are in the company of people, horses, or other Dalmatians. Afterall, they were bred for companionship!
Tip 4: Off-leash Awareness
As I mentioned above, Dalmatians DO have an "independent streak". They are not as "clingy" as other breeds, especially when they are off-leash and there is a big world to explore! For this reason, I strongly recommend extensive recall training before you let your Dalmatian off-leash in an open area. Teach your Dalmatian to "check-in" with you frequently. Dalmatians are more than capable of wandering long distances, and often turn up lost when they wander too far. The training is essential and definitely worth the time, because a Dalmatian that is allowed frequent off-leash time will be a very happy Dalmatian!
Tip 5: Climate Awareness
Dalmatians have a VERY short single-layered coat, and are therefore very susceptable to severe weather. In extreme heat, Dalmatians are liable to get sunburned. The only way to prevent this is to limit extended hours in direct sun and to provide proper shade (and water to prevent dehydration!) Even more important, remember that if YOU are cold, your Dalmatian is cold, too! In particularly cold weather, provide your Dal with a coat!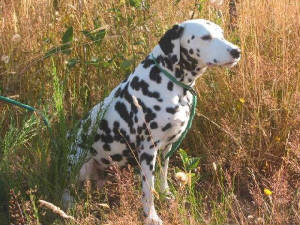 Tip 6: Watch the Waist-line
Because Dalmatians were meant to be almost constantly burning calories, nowadays when Dalmatians spend more down-time they are liable to put on a lot of weight. Make sure you don't overfeed your Dal and make sure they are burning plenty of calories. If you aren't sure about your Dal's weight, ask your vet.
Tip 7: Grooming
Despite their short, single-layered coat, Dalmatians need to be groomed occasionally. Definitely buy a short-hair shedding comb to cut back on excess loose hair (which aggravates their skin, and contributes to your allegies!). As for dog shampoos, I recommend Kelco's "Plum White" shampoo. Plum White is all natural, earth friendly, and very gentle on sensitive skin. It uses the natural whitening properties of plums and also makes their coats really soft! It really brings out the contrast of the spots! You can find shedding combs at most pet supply stores, and if you can't find Plum White at your local pet supply store many groomers carry it.